Polar Shrimp
Polar Shrimp
Fly Name
Hook
10-2/0
Thread
black
Wings
white hair
Tails
red hair
Body
orange chenille
Hackle
orange neck or saddle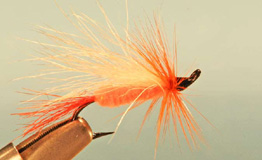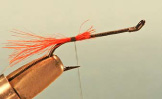 Wrap thread onto the hook shank from about 1mm behind the eye to the start of the hook bend. Tie in the hair tail material by making two loose wraps followed up with 3 to 5 tight wraps. Continue with additional tight wraps right to the base of the tail.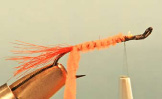 Attach the body material with 3 to 5 tight wraps of thread. Continue to wrap thread around the body material from the base of the tail to the front end of the body. This makes an even underbody foundation.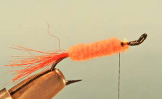 Wind chenille evenly on 3/4 of hook shank to form the body.
Select yarn or hair and position it with tip ends rearward. If hair is used, clean away fuzz and short hairs. Wrap with 2 loose windings followed up with 3 to 5 tight windings. After the loose wraps the wing can be repositioned or its length can be adjusted. Pull excess base material upwards and clip closely parallel with hook shank. Wrap wing bases with thread. Place a drop of thin head cement to penetrate and to additionally secure wing.
Note: Wing should be slanted 45° backwards. If needed, tie in thread behind wing to reposition it upright.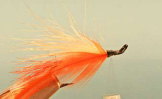 Select hackle for proper size and desired stiffness. Cut stem at junction with webby and stiff fibers. Strip away fibers exposing 2 to 3mm of stem. Tie in stem with 2 loose wraps to place followed up with 3 to 5 tight thread wraps. Convex side of hackle is adjacent to body. Wind hackle evenly forward to 1mm behind hook eye. Tie off with 3 to 5 tight thread wraps. Cut off to break away excess hackle. Short or slippery hackles require hackle pliers while long hackles can be wound with fingers.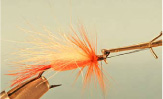 Whip finish head with 4 to 8 turns. Pull tag end firmly and cut off excess thread. Place a drop of head cement on knot and allow it to penetrate both the thread base and hackle stems.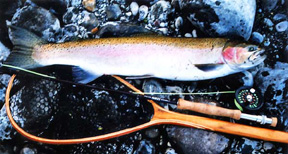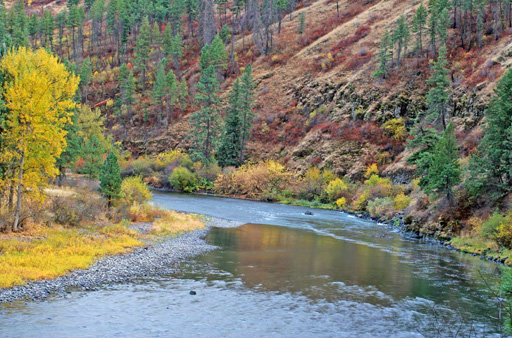 Excellent steelhead pattern for pre-spawn fish. Present it on a deep swing about 1 foot off the bottom. The polar shrimp mimics drifting eggs and its attached white spawn sack.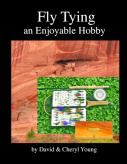 Perigree Learning, LLC.
© 2023 The Gale Group, Inc. All rights reserved.
© 2023 Perigee Learning LLC. All rights reserved.
LoveTheOutdoors.com is owned and operated by Advameg, Inc. © 2023 Advameg, Inc.