Purple Steelhead
Purple Steelhead
Fly Name
Hook
8-2/0
Thread
red
Wings
purple marabou
Tails
none
Body
red thread
Hackle
orange guinea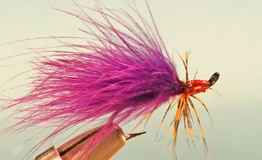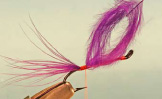 Tie in thread at forward end of body with 3 to 5 tight wraps. Wrap thread to the base of the tail. Select marabou and position it with tip ends rearward. Wrap with 2 loose windings followed up with 3 to 5 tight windings. After the loose wraps the marabou can be repositioned or its length can be adjusted.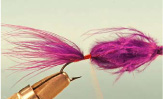 Cut away base of marabou. Select another bunch of marabou and tie it in forward of the first bunch. Secure with 3 to 5 tight windings. Trim marabou base.
Repeat by tying in another marabou bunch forward to the last bunch. Trim off its base. Make sure that all marabou tips are even in height.
Repeat this same process until 4 bunches of marabou is in place.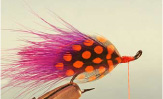 Select hackle for size and stiffness. Expose tip by gently stroking back fibers. Tie in by base with two loose winds followed up with 3 to 5 tight winds. Convex side of hackle faces the fly's body. Evenly wrap hackle 2 or 3 turns. Tie off hackle with 3 to 5 tight thread wraps. Either trim away excess or pull backward and break stem off at windings.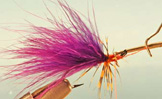 Whip finish head with 4 to 8 turns. Pull tag end firmly and cut off excess thread. Place a drop of head cement on knot and allow it to penetrate both the thread base and hackle stems.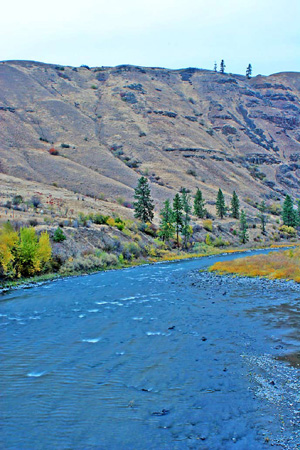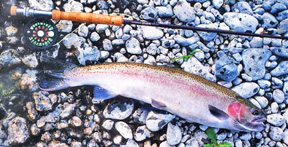 I prefer to swing this fly through the slower current sections in which steelhead frequent. The marabou is easily activated by the slightest movement. It is a good producer when the water is stained or the light intensity is low.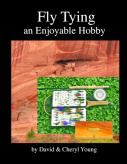 Perigree Learning, LLC.
© 2023 The Gale Group, Inc. All rights reserved.
© 2023 Perigee Learning LLC. All rights reserved.
LoveTheOutdoors.com is owned and operated by Advameg, Inc. © 2023 Advameg, Inc.