Receiving its name from the practice of running goods to and from Canada, most notably alcohol during the 1920s, Smugglers Notch is a much more civilized and well-travelled area these days. Get there by taking highway 108 from either highway 15 in the north or highway 100 in the south.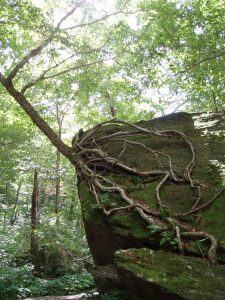 Take Toll Road off of highway 108 and follow it up the slopes until you reach the Long Trail access. There is a decent sized parking area here with restrooms. Follow the Long Trail to the top of Mount Mansfield for some beautiful views and typical Vermont granite rock and northern forest contrasts. In some spots the trees literally cling to boulders and rock faces in an elemental struggle for supremacy.
Once you reach the mountain, forego the Long Trail as it loops through the ski resorts and neighborhoods in the area, and strike out on the Sunset Ridge Trail. This takes you through some more of the same beautiful scenery and ends at Browns River (dried up in the summer) and the CCC road. Turn around and trudge back up to the mountain and then to the car for a brisk, but relatively easy 4 mile total. Be sure and drive the length of highway 108 as the scenery is no less spectacular from your car. Maybe when you're done head down to Waterbury and treat yourself to some Ben and Jerry's at their home factory.