Wrist Roll Mend
---
As the wrist roll starts, the rod angle is about 0 degrees and arches to a peak of about 90 degrees and back down to 0 again. This wrist movement causes the rod to reposition the line closer to the angler. Additionally, the rod maneuvers through a half circle, (180 degree arc), as viewed by the angler.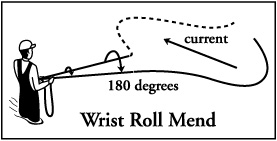 ---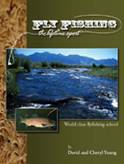 Fly Fishing - The Lifetime Sport
Copyright 2016 The Gale Group, Inc. All rights reserved.
Copyright 2016 Perigee Learning LLC. All rights reserved.
lovetheoutdoors.com is owned and operated by Advameg, Inc. Copyright 2016 Advameg, Inc.