Western March Brown
Western March Brown
Family: Heptagenlidae
Genus: Rhithrogena
Life Cycle: incomplete
Three Life Stages: egg, nymph, adult cycle which includes 2 phases: dun and spinner
Emergence: March-May
Clinger Mayfly Group
Nymph

Body Description
Antennae: 2 short
Head: head is wider than the abdomen
Eyes: large
Gills: large and overlapping under the abdomen forming a suction cup to help cling and move about the rocks in the fast currents
Tails: 3
Legs: 6
Body Color: olive-brown to brown
Mobility: slow swimming and floating; they drift long distances before they go to the surface
Size: 8-12mm
Hook Size: 10-14
Live in the faster current of riffles and runs in the rocks.
Dun

Body Description
Antennae: 2 short
Head: flat
Eyes: large
Wings: 2 sets, grayish and highly marked with dark brown mottling; distinguish from callibaetis because March Browns have prominent 2 nd wing while callibaetis do not
Tails: 2
Legs: 6
Body Color: top is shades of brown; bottom is shades of tan
Size: 8-12mm
Hook Size: 10-14
Spinner
Body Description
Wings: clear and heavily veined
Body Color: light to medium brown
After emerging into spinners they mate and return to the water to lay their eggs but don't normally provide a fishable spinner fall.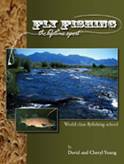 Perigree Learning, LLC.
© 2023 The Gale Group, Inc. All rights reserved.
© 2023 Perigee Learning LLC. All rights reserved.
LoveTheOutdoors.com is owned and operated by Advameg, Inc. © 2023 Advameg, Inc.