Crayfish: Decapods
Crayfish: Decapods

Crayfish are an important source of fish food because of their large size and nutritional content. Characteristics of the crayfish are: five strong pairs of legs with the first three pairs having clawed ends, with the first set of legs much larger with strong pincher claws that are like a crab; two beady eyes; a flap-like paddle at the end of a segmented tail; and two pair of antennae. When the crayfish sheds its exoskeleton and becomes a soft shelled creature it is most vulnerable to trout. They have good mobility, either crawling in a forward or reverse movement or tail swimming in a fast darting motion. As nocturnal bottom dwellers, they live under shallow streamside or lakeside structures, close to rocks, logs, weed beds, moss beds, old cans, and tree bark and they dig dens. They are both scavengers and predators. Crayfish prefer warm temperatures (55°-65°F) and are dormant in colder temperatures below 42°F.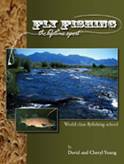 Perigree Learning, LLC.
© 2023 The Gale Group, Inc. All rights reserved.
© 2023 Perigee Learning LLC. All rights reserved.
LoveTheOutdoors.com is owned and operated by Advameg, Inc. © 2023 Advameg, Inc.