Craneflies
Craneflies
Order: Diptera (2 winged insects)
Life Cycle: complete
Four Stage Metamorphosis: egg, larva, pupa, and adult

Craneflies are very large Diptera which resemble large mosquitoes but are preferred by fish because of their abundance. The pupa is not available for fish. The cranefly larva is one to two inches thick and meaty, burrowing in and around the bottom structures of lakes and streams. When the larva is dislodged they curl up into a ball or react by elongating like leeches. No matter what stage the larva is in, trout will eat them. Cranefly adults actively mate, laying eggs along the water's edge. They dance and flutter, catching the trout's attention, making craneflies readily available to them.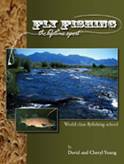 Perigree Learning, LLC.
© 2023 The Gale Group, Inc. All rights reserved.
© 2023 Perigee Learning LLC. All rights reserved.
LoveTheOutdoors.com is owned and operated by Advameg, Inc. © 2023 Advameg, Inc.