Casting Grip
Casting Grip
The casting grip is made by placing the thumb extended over the top of the rod's cork grip. The index finger is directly underneath the thumb with the middle ring finger and little fingers lending support by gripping the cork between the entire thumb and these fingers. The greatest gripping strength is made between the thumb and the index and middle fingers. The ring and little finger have a somewhat more relaxed grasp. Nearly opposite each other are the thumb and index fingers which are seated in the cork's walls.
The wrist is stiff, while the elbow is loose. The rod becomes an extension of your forearm. Consequently, the shoulder and elbow joints control the rod's movements. For example: this grip is similar to holding a hammer and nailing a spike. The wrist is locked and doesn't move during the casting stroke.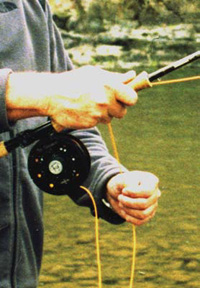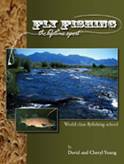 Perigree Learning, LLC.
© 2023 The Gale Group, Inc. All rights reserved.
© 2023 Perigee Learning LLC. All rights reserved.
LoveTheOutdoors.com is owned and operated by Advameg, Inc. © 2023 Advameg, Inc.