7/8 Upstream Delivery
7/8 Upstream Delivery
The 7/8 upstream delivery presents the fly without placing the line over the fish. The cast is made at about a 1:00 o'clock position with 12:00 o'clock directly upstream from the angler. Only a small tippet segment travels over the feeding lane. This presentation easily furnishes a drag free float.
However, this 7/8 presentation has two disadvantages. First, the false casting over the fish's position may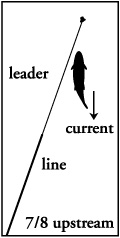 alarm a wary fish. Second, the cast must be accurately made to land precisely into the feeding lane. Fine, flexible tippets and delicate casting help overcome these disadvantages. A rippled surface helps disguise this delivery.
Cast precisely to a targeted area about six feet upstream from the fish. Retrieve the slack line as it drifts back downstream.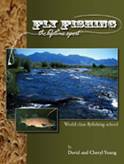 Perigree Learning, LLC.
© 2023 The Gale Group, Inc. All rights reserved.
© 2023 Perigee Learning LLC. All rights reserved.
LoveTheOutdoors.com is owned and operated by Advameg, Inc. © 2023 Advameg, Inc.