One can easily spend a week in the Lake Winnipesaukee region. First of all, let me suggest motorcycles as your primary means of transport. They are ubiquitous in the region, the winding roads are conducive to their use, and they are available for rent at several location in Manchester, NH. Regardless of your mode of transportation, there are a multitude of day hikes surrounding the lake in all directions.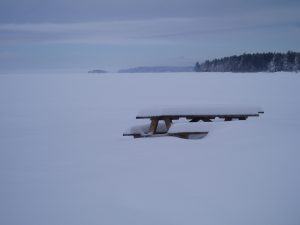 Mount Major is a popular peak at the south end of the lake, easily accessible from highway 11 and a relatively easy trail to navigate as it primarily runs on old logging roads. The views from the top are spectacular and you fall foliage lovers will not be disappointed with an October hike. Also head along highway 117 to reach the Ossipee Mountains and views of the lake from the northeast. Take the Bald Knob trail and achieve ever grander views from Bald Knob, Turtleback Mountain and Black Snout Mountain. Beware, however, this is a 12 mile round trip hike with a 2100' elevation gain—not for the faint of heart.
The next day, reward yourself with a nice day at the beach at any of the many parks along the water, Ellacoya off highway 11 is a personal favorite. Also look into renting a kayak or canoe for paddling the lake, although it is best to stay to some of the narrower fingers as motorboats are allowed on the water and take full advantage of their freedoms.
And, of course, make a circuit of the lake, stopping in all of the small towns to shop and dine. Summer is great, late fall is great, early fall is less crowded and still pleasant, but go any time. Even winter is fun with nearby skiing available.