On those bone-chillingly cold days in the outdoors, it's essential to know how to choose the right winter clothes. Even if you've stuck to the key tenet of layering for cold weather, doing it with the wrong materials will eventually leave you cold, miserable, and feeling totally exposed to the harsh elements. So whether you're camping early in the season or going out for a pre-spawn fishing trip, use this guide to choosing winter clothing and materials to keep you toasty warm all day.
1. Long underwear and socks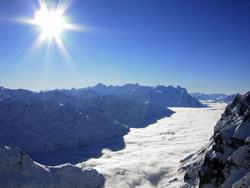 For any person braving the winter cold, long underwear is the first line of defense. When choosing long underwear, look far a materials listing on the package. Many brands in the United States supplant artificial material like polyester for wool. This isn't really what you want. Because wool is so effective at absorbing water, it will quickly pick up any sweat during a rigorous hike or walk and prevent you from getting cold later. If possible, try to find a brand that at least incorporates some wool in their blend of material. With socks, stick to that same idea, and don't be afraid to layer more than one pair if your feet could end up in some water.
2. The insulating layer
The material you choose for this layer really depends on the type of weather you're headed into. If it's only moderately cold, then a fleece jacket or pullover is usually a great option because of its light weight and comfortable nature. But bear in mind, it does next to nothing in terms of blocking wind. So if you're going to be at high elevations or out on a breezy day, exchange the fleece for option two: wool. Tightly woven wool sweaters should be worn when it's excessively cold and windy. They serve to block the wind and wick away moisture, if you can stand the relative discomfort of wearing them.
3. The weatherproof layer
For outdoor sports fanatics, this outermost layer is a must. If you plan on braving cold rain, sleet, or snow, then consider investing in a high quality set of coat and pants. Today, the most highly regarded materials for the "shell", as it's called, are synthetic. They're closely bound fabrics with a protective waterproof material on top. If possible, look for a coat or vest with down packed on the inside, as it retains warmth like nobody's business.
With these recommendations for winter wear in mind, you'll be able to brave almost any inclement weather to get your outdoor fix. In combination with good headwear and a waterproof footwear, you'll have almost impermeable protection between your body and the harsh elements.