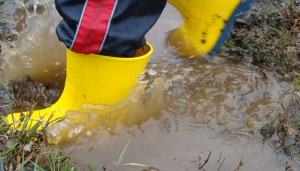 Few things can dampen the fun of a camping trip faster than adverse weather conditions. If you're ill prepared, even intermittent periods of rain may cut your trip unnecessarily short. If you know how to camp in the rain, however, you can prevent weather conditions from controlling your camping experience. The things to remember are pretty simply applied and straightforward. So, in the future, there's no reason to let some unexpected showers ruin your camping trip again.
What to Bring When Camping in the Rain
The most important part of camping comfortably in not-so-perfect weather is your tent. Most retail camping tents sold today come weatherproofed and ready for wet weather, but there are some steps you can take to ensure that it will stay bone-dry in even the worst storms. First, use a sealant to waterproof the exterior of the tent before each trip. Sealants are available on the cheap at most outdoor retailers.
Second, always remember the tent's weatherproof fly (the exterior piece that covers mesh areas) when you go. In the summer months especially, the tent's fly is often left at home because campers believe that it won't be needed. But experienced outdoorsmen (and women) know that being prepared for the unexpected is a chief tenet in making sure that camping trips are always fun and comfortable. Lastly, bring a couple of tarps and a few extra spikes with you on each and every camping trip. If the weather gets really bad, they can act effectively as anything from a reinforcing roof to a dry floor.
Bags, Bags, Bags
Plastic bags of all sizes are a Godsend on a rainy camping trip. They'll keep everything from your clothing and food items to essential equipment perfectly dry in the rain. The bags don't necessarily have to be expensive – even trash bags will do. Just make sure they're sealed, and be sure to bring plenty on every trip.
Don't Set Up Camp in Potential Ponds
If there's even the slightest chance for rain during your next camping trip, be sure to set up camp in an area that won't become waterlogged. Basins and creek valleys should be avoided. Try to find a hill with a definite angle, and set up on the upper slope of it. The ground's slant will ensure that runoff travels past your campsite instead of into it. Plus, camping on the hillside opposite the direction of the weather front will help protect your site from bearing the brunt of Mother Nature's force.
Camping in the rain doesn't have to be a soggy, miserable experience. With a bit of extra effort and planning, your next camping trip will be a surefire hit with family and friends – rain or shine.