Tackle
There are over 800 styles and sizes to choose from. The major styles are regular wire, light wire, heavy wire, single, double, treble, bait, worm, circle, octopus, Kahle, Aberdeen, Siwash, drop shot, weed less, fly hooks, Limerick, and O'Shoughnessy.
I use several line types. They are monofilament, fluorocarbon, and super braids.
I prefer an assortment of removable, soft split shot. My favorite manufacturer is Gremlin.
Swivels are useful in preventing line twisting. I'll use one whenever I use a bait or lure that may spin my line.
For most of my fishing, I rely upon three spin rods: a 6 ½ foot light action, a 7 or 7 ½ foot medium light action and a 9 foot medium action. I own and use many spin rods from 4 ½ to 10 ½ feet.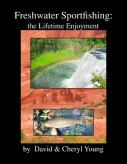 Perigree Learning, LLC.
© 2022 The Gale Group, Inc. All rights reserved.
© 2022 Perigee Learning LLC. All rights reserved.
LoveTheOutdoors.com is owned and operated by Advameg, Inc. © 2022 Advameg, Inc.