Swivels
Swivels
Swivels are useful in preventing line twisting. I'll use one whenever I use a bait or lure that may spin my line. Trolling is a constant movement that can cause the most line twists. I use plain barrel swivels, snap locking swivels, ball bearing swivels, and snaps.
The plain barrel swivels are for attachment purposes. They make an excellent junction for line and leader. The swivel also helps reduce line twisting. This attachment is as strong as the knots used.
The locked snap swivel makes it so one end can be quickly removed or locked into place. The snap makes it possible to attach lures quickly. The snap swivel also allows slinkies to slide up and down the line easily. This helps in strike detection. The snap must have a bent-up portion which locks it into place. The ones without this can fail and pull out under heavy pressure.
The ball bearing swivel is supposed to be the most efficient at preventing line twist. I use them to connect lures that spin around in complete circles. I like them for spoon fishing.
A plain snap without a swivel is a simple attachment for a plug's eye. This allows a loose attachment which doesn't restrict the wobble of the plug. I use them whenever plug fishing.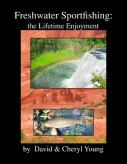 Perigree Learning, LLC.
© 2023 The Gale Group, Inc. All rights reserved.
© 2023 Perigee Learning LLC. All rights reserved.
LoveTheOutdoors.com is owned and operated by Advameg, Inc. © 2023 Advameg, Inc.