Hare's Ear Clinger
Hare's Ear Clinger
Fly Name
Hook
12-22
Thread
black & fine gold wire rib
Wings
pheasant tail
Tails
partridge
Body
hare's ear
Hackle
none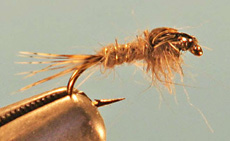 Wrap thread onto the hook shank from about 1mm behind the eye to the start of the hook bend. Tie down about 7 partridge hackle fibers. Position with 2 or3 loose wraps and follow up with 5 tight thread wraps.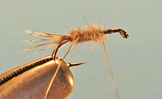 Wax thread with a light coat of wonder wax. Apply a thin amount of dubbing. Spread dubbing fibers out evenly on thread. Twist dubbing evenly on thread with thumb and forefinger.
Wrap dubbed thread evenly forward to the front end of the body. Tie off with 3 to 5 tight wraps.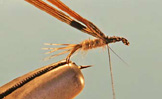 Tie in about 12 pheasant tail fibers at junction between abdomen and thorax. This will later become the wing case.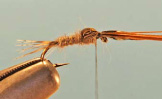 Wind dubbing to make a thicker thorax than the abdomen. Fold over the pheasant tail fibers in front of the thorax and tie down with about 5 tight wraps. Trim away the excess.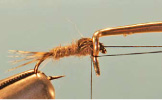 Whip finish head with 4 to 8 turns. Pull tag end firmly and cut off excess thread. Place a drop of head cement on knot.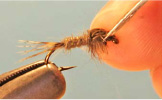 Pick out the thorax dubbing to create the legs. The picked guard hairs simulate legs and the under fur gives a translucency to the fly.
Note: This clinger version is tied in a short squatty style as compared to the swimmer hare's ear style. This mimics a wide variety of mayfly nymphs. It is extremely effective when dead drifted at the surface and just above the bottom.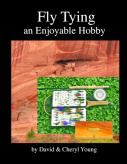 Perigree Learning, LLC.
© 2023 The Gale Group, Inc. All rights reserved.
© 2023 Perigee Learning LLC. All rights reserved.
LoveTheOutdoors.com is owned and operated by Advameg, Inc. © 2023 Advameg, Inc.