Salmon Fly Dry
Salmon Fly Dry
Fly Name
Hook
6-2
Thread
black
Wings
moose or tan elk hair
Tails
none
Body
salmon orange elk hair
Hackle
elk hair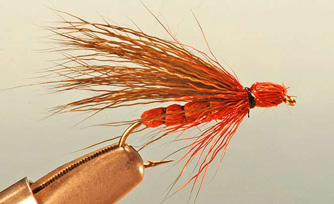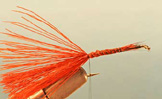 Attach thread base to the hook shank. Tie in a bundle of elk hair about the diameter of a kitchen match. Wind thread over hair down to the bend of the hook.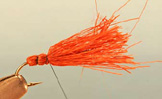 Reverse the direction of the loose elk hair and evenly space it around the hook shank. Make even ribbing with the tying thread. Rib back to the forward portion of the body.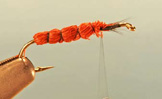 Secure with 5 tight thread wraps.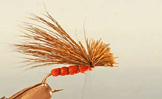 Select a bundle of either moose or elk hair for the wing. Again the diameter of a kitchen match is about right. Tie in with 2 loose wraps. Reposition the hair so it is the right length and is on top of the hook shank. Secure with 5 tight wraps.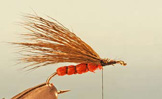 Trim away the hair butts.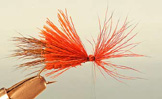 Select another match sized bundle of orange elk hair. Loosely tie it in right in front of the wing. The tips must point forward. Firmly wind thread so that the elk hair flares outwards and evenly around the shank.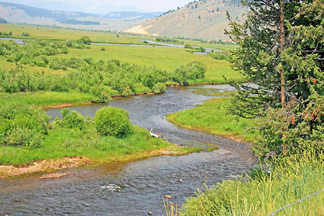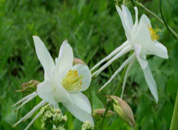 Wind thread back to the start of the wing and fold back the elk hair. Tie down with 2 loose wraps followed up with 5 tight wraps.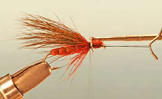 Whip finish head with 4 to 8 turns. Pull tag end firmly and cut off excess thread. Place a drop of head cement on knot and allow it to penetrate both the thread base and hair stems.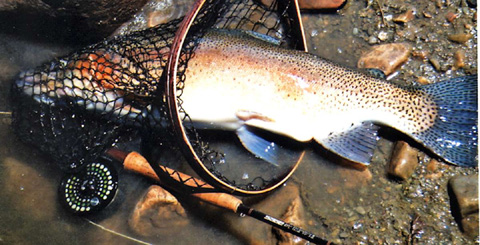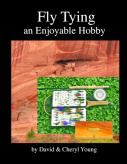 Perigree Learning, LLC.
© 2023 The Gale Group, Inc. All rights reserved.
© 2023 Perigee Learning LLC. All rights reserved.
LoveTheOutdoors.com is owned and operated by Advameg, Inc. © 2023 Advameg, Inc.