Goddard Caddis
Goddard Caddis
Fly Name
Hook
12-18
Thread
black
Wings
none
Tails
none
Body
deer hair
Hackle
brown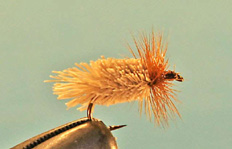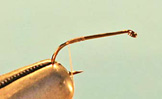 Attach thread to rear quarter of hook shank. The bare shank makes it easier to spin deer hair.

Attach a match stick sized clump of deer hair to the hook with 3 loose wraps. Once in place pull on thread to cause the hair to flare and to spin evenly around the hook shank. Secure with 5 tight wraps directly in front of hair. Push the hair together to condense the spun bundle. Repeat this same process 2 more times until the body of the fly is formed.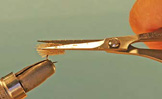 Clip the hair with scissors into a tent wing shape. This will become both the wing and the body.

Select hackle for proper size and desired stiffness. Cut stem at junction with webby and stiff fibers. Strip away fibers exposing 2 to 3mm of stem. Tie in stem with 2 loose wraps to place, followed up with 3 to 5 tight thread wraps. Concave side of hackle is opposite of body. Wind hackle evenly forward to 1mm behind hook eye. Tie off with 3 to 5 tight thread wraps. Cut off to break away excess hackle.
Whip finish head with 4 to 8 turns. Pull tag end firmly and cut off excess thread. Place a drop of head cement on knot and allow it to penetrate both the thread base and hackle stems.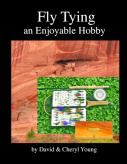 Perigree Learning, LLC.
© 2023 The Gale Group, Inc. All rights reserved.
© 2023 Perigee Learning LLC. All rights reserved.
LoveTheOutdoors.com is owned and operated by Advameg, Inc. © 2023 Advameg, Inc.