Wind
Wind
Breezes cause the surface to be broken up, and this impairs the fish's vision. Calmer water presents the fish with a clearer vision field. Additionally birds of prey have difficulty spotting fish under a broken surface. Fish are easier to approach on a windy day as compared to a calm one. Also, the wind moves the riparian growth and fish have trouble spotting your movements.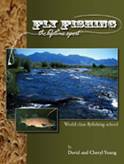 Perigree Learning, LLC.
© 2023 The Gale Group, Inc. All rights reserved.
© 2023 Perigee Learning LLC. All rights reserved.
LoveTheOutdoors.com is owned and operated by Advameg, Inc. © 2023 Advameg, Inc.