Wading Equipment
Wading Equipment
Felt soles provide traction on slippery, moss covered rock. Consequently felt soles are a good choice for wading rocky streams. But felts can furnish poor footing on inclined muddy banks where they can slide downhill like skis. In muddy areas watch your step when wearing felt soles. Cleated rubber soles provide good footing in muddy areas. The deeper the tread the better they perform in the mud. Rubber cleats are useful in some streams where recently flooded gravel has not yet formed moss coverings.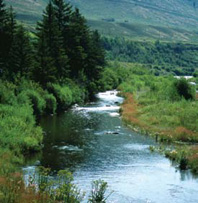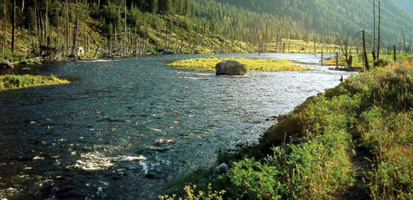 Once vegetation has attached to the stream's stones, rubber cleats are poor choices because they provide slippery footing.
Aluminum studs and cleats cut through the moss slime and grip the stone's surface. They provide stable footing on slippery, rocky streambeds. The disadvantages are that they are abrasive to boat bottoms, car floors and fly lines. They can be noisy when used in an aluminum boat or when wading in a rocky streambed. These noises may frighten fish.
Combination felt and aluminum cleats provide the most stable footing on the slickest rocks. But their weight may cause loss of buoyancy during an accidental spill that turns into a swim. Also they are abrasive and noisy, but they do provide the best all-around footing.
A staff allows a third point to apply stabilizing pressure during a wade. Staffs are useful in difficult wading conditions; also, staffs can be used as probes to feel out your next footing site. When deep wading, place the staff upstream from your upstream foot and apply pressure to secure it to the bottom. Next, move your foot downstream to the new position. Always leave one foot secured. This combination of at least one secure foot and a stable staff position enhances your wading stability.
Use a lanyard to attach the staff onto your wading belt. When it is not in use, allow the staff to hang downstream out of the way. In addition, this staff can be used as a hiking aide. Moreover, it can be used to forewarn snakes by tapping it ahead of your progress.
Staffs can be made streamside by attaching an extra boot lace to an appropriately sized tree limb. Folding staffs are available with shock cording so they assemble by themselves when unsheathed. In addition, staffs can be made from ski poles with the snow loop removed.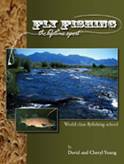 Perigree Learning, LLC.
© 2023 The Gale Group, Inc. All rights reserved.
© 2023 Perigee Learning LLC. All rights reserved.
LoveTheOutdoors.com is owned and operated by Advameg, Inc. © 2023 Advameg, Inc.