Summary
Summary
Choose well-fitting waders and make sure that the inseam is the correct length so that you can move freely. Too short of an inseam in your waders will disable your leg movements. The use of a wading belt ensures a secure chest fit. A tight fit around the chest traps air in case of an unexpected plunge.
Footing. Stream cleats (combination of aluminum cleats and felt) provide the most stable footing on slippery rocks. Felt soles are good on most rocky stream bottoms. Rubber cleats are good on muddy areas.
Carry and use a wading staff.
Use a life preserver in dangerous wades.
At all times have one foot secured. Never move the unsecured foot without the other foot secured.
Before wading, take into account the streambed's conditions, depth, and current velocity. Choose the appropriate gear.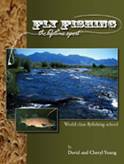 Perigree Learning, LLC.
© 2023 The Gale Group, Inc. All rights reserved.
© 2023 Perigee Learning LLC. All rights reserved.
LoveTheOutdoors.com is owned and operated by Advameg, Inc. © 2023 Advameg, Inc.