Little Yellow Salleys
Little Yellow Salleys
Order: Plecoptera
Family: Perlodidae
Genus: Isoperta
Life Cycle: incomplete
Three Life Stages: egg, nymph and adult
Emergence: July-September
Nymph

Body Description
Antennae: 2 long
Eyes: 2 black beady
Tails: 2
Legs: 6
Abdomen: 10 segments
Mobility: active predators that crawl among the rocks looking for insects
Body Color: transparent golden yellow to dark brown with ribbing
Size: 3/8"-5/8", 7-16 mm
Hook Size: 8-14, 2X long
Stonefly nymphs are best found in cold water streams with the biggest population living in fast flowing streams in the mountains.
Adult

Body Description
Antennae: 2 long
Eyes: 2 black beady
Tails: 2
Legs: 6
Abdomen: 10 segments
Mobility: very active, often seen flying out over the water and around the foliage
Body Color: pale to a bright yellow translucent color
Size: ½"-3/4", 7-16 mm
Hook Size: 10-16
Females glide, fly or drop over riffles and runs to deposit their eggs. This may take several times before all the eggs are deposited. Many females end up on the water.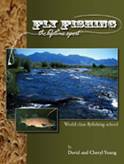 Perigree Learning, LLC.
© 2023 The Gale Group, Inc. All rights reserved.
© 2023 Perigee Learning LLC. All rights reserved.
LoveTheOutdoors.com is owned and operated by Advameg, Inc. © 2023 Advameg, Inc.