Lift-Off-and-Settle
Lift-Off-and-Settle
As an insect migrates toward the surface it may tire en route and settle back down to rest. The travel direction is an upwards and downwards motion that eventually reaches the surface. When insects are preparing for hatching they become active, performing many false starts and stops; this occurs for about one hour before actual emergence. The insect's increased activity lifts them off the bottom and makes them both visible and available to the fish. An effective technique is to fish the lift-off-and-settle retrieve from a boat or a float tube. A standard hook fly pattern retrieved over a relatively clean bottom fishes well; on the other hand, weedy bottoms may require a weedless fly pattern to prevent snagging. This retrieve is achieved by casting the fly to the desired position and allowing it to sink to the bottom. Next, the lift-off is made by lifting the rod tip upwards and the settle is done by immediately lowering the rod tip back down. Strip in the slack line with the line hand. Continue this action until the fly is completely retrieved.
Strikes may occur at any time. Be prepared for either soft or hard strikes. The slightest line resistance on either the rise or the fall portions of the retrieve may be a soft strike. Also, during the lifting phase strikes can become arm-wrenching affairs.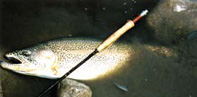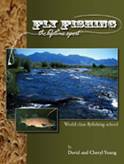 Perigree Learning, LLC.
© 2023 The Gale Group, Inc. All rights reserved.
© 2023 Perigee Learning LLC. All rights reserved.
LoveTheOutdoors.com is owned and operated by Advameg, Inc. © 2023 Advameg, Inc.