Leaders
Leaders
The leader's purpose is to fool the fish by disguising the fly's connection to the fly line. Flyfishers refer to the end of the leader as the tippet. Line type, water clarity, fish size, and fly size determine the leader's length, taper, flexibility, and strength.
Leaders can become easily kinked from storage on a spool or a reel. The safest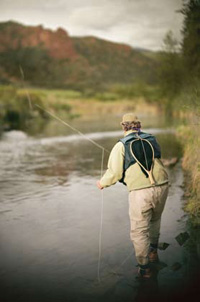 way to straighten leaders is by carefully stretching them with a steady pull. This can be done by pulling the leader between your two hands or by attaching one end of the leader to a stable object and pulling the entire leader at once. Leather coated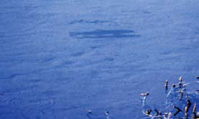 rubber straighteners are undesirable because the friction can damage the monofilament and weaken it. Exercise extreme care when using a rubber straightener. Moisten the rubber and pull gently.
Tapered leaders come in knotted or knotless styles. The disadvantage of a knotted tapered leader is that the knots can weaken. Knots can also catch in the guides or attract particles of moss. Coating the knots with Pliobond, Zap a Gap, or Aqua Seal can prevent these problems. The knots can also collect water drops and cause some casting spray. Although such spray is minimal, in extremely placid water conditions it can still become an annoyance. The disadvantage of a tapered knotless leader is that I seem to always buy the ones with a weakened tippet section. Consequently, the first thing that I do after I buy one is to replace the tippet section with a fresh one.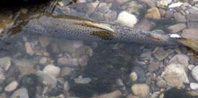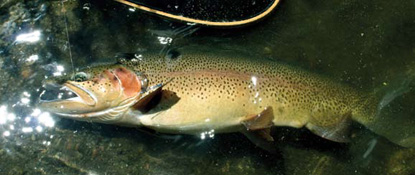 Leaders are attached to the fly line with a well-tied nail knot or a good variation of one. The juncture between fly line and leader is coated with Pliobond, Zap a Gap, or Aqua Seal for smoothness.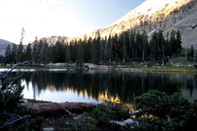 Of course, you can tie your own knotted leaders. The advantage of tying your own is that you can custom tie a wide variety of leaders and make them inexpensively. You can make them with very stiff butt materials and super flexible tippets, or you can tie braided butts that are very flexible and use a limp or a stiff tippet. You can also vary the leader's length to meet your specific needs. You will need an assortment of leader sizes and styles.
My favorite knot to join different sized leaders is the triple surgeon's knot. This knot is easier to tie than the blood knot and it doesn't suffer from the uneven wrap that weakens a blood knot. A triple surgeon's knot can also be used to make a loop or a dropper. I like it for tying hard nylon to a soft nylon. I coat this knot with Zap a Gap. Coating the knot prevents the hard nylon from cutting into the softer material and weakening it.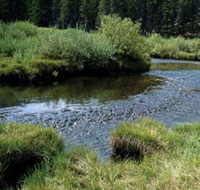 Below you can find a sample list of materials for tying your own custom made leaders:
Braided 20 or 30 lb. test Dacron
Maxima Ultragreen or Chameleon 25, 20, 18, 15, 10, and 8, lb. test
Dai Riki Velvet and Dai Riki standard 0X, 1X, 2X, 3X, 4X, and 5X
Fluorocarbon tippet spools in 12, 10, 8, and 5 lb. test
Note: Always store leader materials in a dark cool area. When exposed to artificial or sunlight, mono leaders soon deteriorate. Heat can also harm them. When buying tippet spools, select new ones right out of the box or else dig to find one at the bottom of a pile that hasn't been exposed to light. Dark brown monofilaments are more resistant to light damage than clear monofilament. Their shelf life is much longer. My Maxima Chameleon has lasted for years.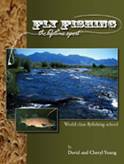 Perigree Learning, LLC.
© 2023 The Gale Group, Inc. All rights reserved.
© 2023 Perigee Learning LLC. All rights reserved.
LoveTheOutdoors.com is owned and operated by Advameg, Inc. © 2023 Advameg, Inc.