Crustaceans
Crustaceans
Scientific Name: Amphipoda
(2 types of legs)
Scuds

There are over 50 different species of the scud. This fascinating crustacean looks and acts like saltwater shrimp so they are often called freshwater shrimp. Scuds have been successfully introduced into man-made tail waters, lakes and reservoirs. There is a wide variety of colors even among the same species, same generation and area. Males are smaller than the females and their diet and growth rate will vary. Scuds have two long antennae on top of the head that curve forward and down. On the six abdominal segments there are 6 pairs of appendages with 7 thoracic segments. The first thoracic segment and the head are fused together. There are 7 pairs of legs with the first 2 pairs being club-like claws. Scuds resemble an armadillo when they die because of the C-shaped fetal position they form. Their body colors are different grays, browns, olives, tans, creams, some bright green, opalescent blue, red and some transparent colors.
Sow Bugs: Isopoda

Common names for sow bugs are cress bugs and pill bugs. They are closely related to scuds and have the same life cycle as the scud. Other relatives are terrestrial potato bugs. Sow bugs have 8 very distinct flat segments, 2 pairs of antennae–one small and one large. On the rear segment there are two paddle-like flat tails. The underside of the body is white. These bugs are very slow crawlers and will helplessly drift in the current and may roll up in a pill shape. They are nocturnal and can be active in very cold water. Cold water conditions in the off seasons (fall, winter and spring) are excellent for fishing.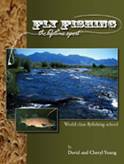 Perigree Learning, LLC.
© 2023 The Gale Group, Inc. All rights reserved.
© 2023 Perigee Learning LLC. All rights reserved.
LoveTheOutdoors.com is owned and operated by Advameg, Inc. © 2023 Advameg, Inc.