Backwards Cast
---
The backwards cast delivers the fly on the backcast. It is mechanically the same as the standard overhead cast; simply look over your shoulder and present the fly on the backcast. (See Diagram 17)
In summary, crosswind casting can be accomplished in a variety of ways. Increase line speeds by casting narrow loops by using single and double haul casts.

---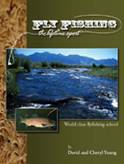 Fly Fishing - The Lifetime Sport
Copyright 2016 The Gale Group, Inc. All rights reserved.
Copyright 2016 Perigee Learning LLC. All rights reserved.
lovetheoutdoors.com is owned and operated by Advameg, Inc. Copyright 2016 Advameg, Inc.