B.C. Knot
B.C. Knot
Provides the strongest connection of tippet to fly.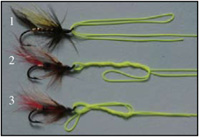 Pass a doubled section of leader through the hook eye with about 6 inches of tag end.
Hold fly securely in one hand and wrap the tag end 5 times around the standing leader.
Pass the tag end back through the small loop near the hook eye. Lubricate, draw tightly, avoid overlapping loops, and trim tag end. (Note this is the same knot as the clinch knot but it is tied with a doubled loop.)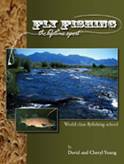 Perigree Learning, LLC.
© 2023 The Gale Group, Inc. All rights reserved.
© 2023 Perigee Learning LLC. All rights reserved.
LoveTheOutdoors.com is owned and operated by Advameg, Inc. © 2023 Advameg, Inc.