Day Hiking
Day Hiking
Day hiking leaves far behind the stress of the everyday world. The sea of taillights ahead of you on the interstate is replaced by the vastness of the wilderness. Sometimes I relish a simple relaxed walk. Taking the time to enjoy the scenery is relaxing while other times I enjoy pushing myself to my limits. A fast paced hike is an exhilarating workout.
Probably there is a host of trails near anywhere you may live. These can lead you through a path of splendor. Hiking is one of the most effective forms of exercise: it's low impact, and it's suitable for nearly everyone. At a brisk pace it's an outstanding aerobic exercise. The calories burned seem to come directly off your waistline and the improvement in your physical endurance is notable. While hiking, your brain is more active and I believe that you can come up with better ideas to solve life's problems. Solutions to what seem to be complex issues are more easily derived while walking.
Here at Utah's Bryce Canyon National Park there are many enjoyable trails. Trails circle the rim and also switchback to the canyon's bottom. Rock Monoliths of unusual colors and formations are exposed. The colorful red rock walls contrast remarkably with the green pine trees. Many people from around the globe day hike in Bryce Canyon. While on the trail you may overhear several different languages. Since a day hiker is exposed to the weather, you must wear the appropriate clothing for weather conditions such as temperature, wind and precipitation. If it's raining, you'll need rain gear to stay dry. If it's sunny, you'll need clothing that is both cool and protective from the sun. If it's windy, you'll need a wind breaker to prevent the wind chill. I enjoy being out in the natural elements away from the controlled climate of the indoor world. The natural environment presents us with genuine sights and sounds.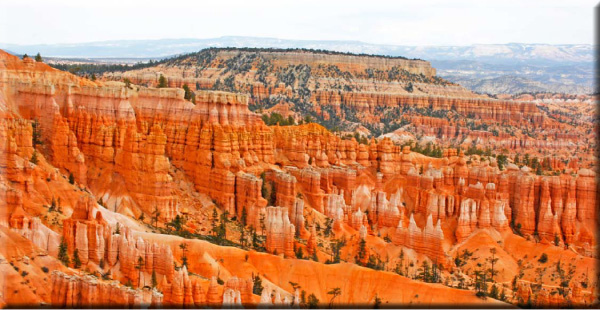 Proper footwear makes day hiking fun. The advent of the athletic shoe has changed my footwear. A lightweight, cushioned running shoe with an aggressive non-slip tread is my choice. With it I can hike longer and more enjoyably than when wearing my heavy leather boots. The need for the stiff ankle protection that a heavy boot provides is a fallacy. Mother Nature designed your ankles to be flexible and their movements prevent you from losing your balance and falling. Stiff ankle protection transfers the stress to your knee joints. An ankle injury such as a sprain is far less serious than a torn knee ligament. The light weight of the athletic shoes allows me to travel farther with less effort. My feet perspire less and blisters and bruised toenails are prevented. About the only time I choose to wear heavy leather boots is when I'm hiking in rattlesnake country or traveling in extremely cold and snowy conditions. At most times I'm happy with an athletic shoe that is comfortable in wet weather. They seem to dry out quickly and it's easy to carry a spare pair of dry socks.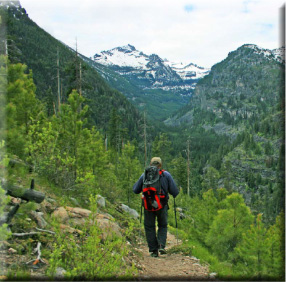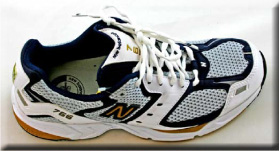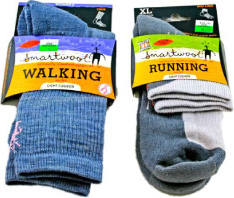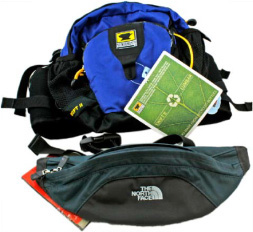 A lightweight lumbar or day pack can store the necessary gear for a day hike. Cameras, matches, water filter bottle and a water supply, along with a lightweight rain coat fit conveniently in the lumbar pack. I like to carry a multi-piece fly rod and a small box of flies. These make up my favorite day hike pack gear. Of course a good topo map and compass can help prevent you from getting lost. I prefer a zip-lock bag filled with nuts and dried fruits for nourishment. Always be aware of just where you are. Stop and make a note of where you are on the map. Look for landmarks that can be easily seen. These are like beacons leading you to your destination and back home again.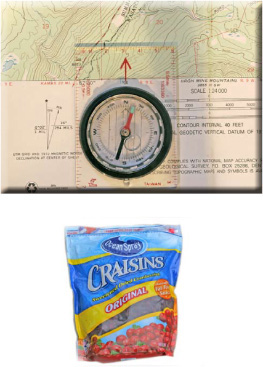 In closing, tread lightly, stay on the trails to protect fragile soils and flora, and of course pack out what you pack in and then some. Enjoy your outing; it's one of the healthiest activities available.