These five great places to hike in the United States offer a variety of terrains and landscapes to navigate. From lush forests to barren mountaintops, there is no shortage of fantastic sights to take in and challenges to tackle on the many fantastic trails in the contiguous United States. Whether you're looking for a leisurely day hike or a grueling, satisfying adventure, you're sure to find a trail that fits you among these five.
1. Mount Whitney, California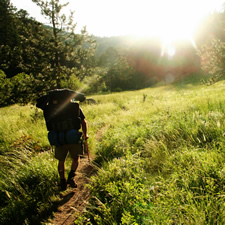 For the seasoned and adventurous hiker, the Mount Whitney Trail is the ultimate challenge. It's the single highest summit in the United States, and there are trails that run all the way to the peak. Hikers can expect a full 22 miles of craggy vertical climbs. Without a doubt, it's a tough journey. But the intrinsic reward of reaching Mt. Whitney's peak is hard to match.
2. Half Dome, Yosemite National Park
Much like Mount Whitney, this challenging hike is for those willing to push themselves to their personal limits. It's a shorter hike though, and the Half Dome's summit can be reached in a single day if you hike hard enough. On the way up, you'll be rewarded with spectacular views of the Rocky Mountains, and, because of the trail's popularity, likely meet some new friends along the way.
3. Clingman's Dome, Smoky Mountains
The tallest mountain in the Smokies, Clingman's Dome straddles the border between North Carolina and Tennessee. As far as difficulty goes, it's much more relaxed than the Rocky Mountain trails. It is, however, far from a leisurely hike. While at the summit, be sure to make a stop at the observation tower. The panoramic view of the Smokies will take your breath away.
4. North Country National Scenic Trail
At nearly 2,000 miles long and spanning seven states from North Dakota to New York, the North Country National Scenic Trail has something for every hiker. It passes through several National Forests, historic monuments, and National Wildlife Refuges in its ambling journey through the northern U.S. For Courier and Ives-esque wintry views, hike this trail in sections during the winter.
5. Wild Azalea Trail, Louisana
With all the mountainous trails listed above, a gorgeous lowland hike such as Louisiana's Wild Azalea Trail shouldn't be left out. Spanning through roughly 26 miles of Louisiana's Kisatchie National Forest, both wildlife and warmth are in steady supply on this hike. Be sure to bring two things to this trail – a fishing pole for Southern Largemouth, and plenty of bug spray.