I received the Rush Moab 10 go bag from 5.11 Tactical to test out and review about a month ago. While I am a little slow on the review, it has given me plenty of time to test out the tactical bag. I have used the bag for commuting, hiking, and it is currently serving as a go bag.
When I was using the bag for hiking, I was surprised at how much I could fit in the bag – it looks a little on the small size but you can really pack a lot in there. I was able to fit in two large water bottles and rain jackets, food, and an SLR camera. One of the best features of the backpack is that it's waterproof. This proved invaluable in both hiking and commuting.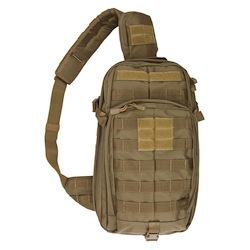 There is a pouch against the back of the backpack, which held my laptop really well. If you have a laptop with a screen bigger than 15 inches, then it may be difficult to fit in the backpack. Other than that, this backpack is great for commuting – it has more pockets than I knew what to do with so there was a spot for every cable and USB device that I take back and forth to work.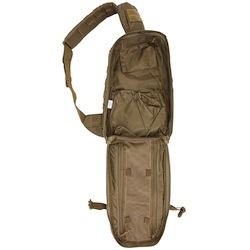 Currently this bag is serving as a go bag for me. My bag is not equipped with everything traditionally in a go bag as I live in a city and might not need some of the elements more essential for wilderness survival. Currently my go bag is packed with the following:
2 liter water bottle
Iodine tablets
Clif Bars
Folding knife
Multi-tool
First aid kit
Rain jacket soft shell
Thermals
Matches
Flashlight
Rope
Blanket
Cell phone charger
Fortunately, the Rush Moab 10 has a ton of pockets – I found spots for all of the gear listed above and still had leftover pockets.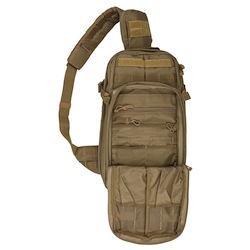 Pros
Tons of pockets
A lot of storage
Changeable shoulder strap (so you can put the bag on either side)
Water resistant nylon which is extremely durable and rugged
Super durable YKK zippers
Cons
Unlike many backpacks, there is no strap around the hips to keep the backpack stable and centered while you are running
ATAC A2 Flashlight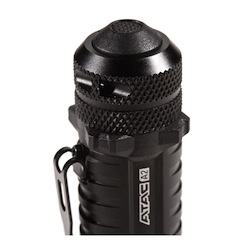 The nice folks over at 5.11 Tactical were nice enough to send over an awesome flashlight for me along with the backpack. They sent over the ATAC A2 Flashlight. This light, much like the backpack, is very rugged and is built to take a lot of abuse as it's built out of aerospace grade aluminum.
I was really impressed by how bright the light was – it was significantly brighter than my Maglite or my small LED flashlight. The ATAC A2 is claimed to put out 162 lumens on the high setting and 15 lumens on the low setting.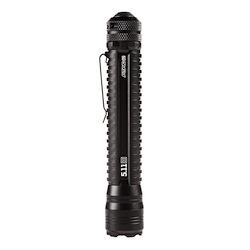 It was a bit tricky to figure out how to change between the three settings (high, low, strobe), but that could be because I didn't read the documentation that came along with the light. That said, after a few minutes, I had it figured out – to change between the settings, tap the button on the back and then press it all the way down to lock in the setting you want.
One of the things I really liked about the flashlight was that it's powered by 2 AA batteries, so it is really easy to find replacements.