Texas Rig
Texas Rig
The Texas rig is fished the same as the Carolina rig, but the swivel and leader is omitted altogether. A cone-shaped sliding weight is placed right in front of the worm's head. The worm is hooked in the same way as in the Carolina rig.
The Texas rig keeps the worm more in contact with the bottom. I prefer to use lightweight sinkers that are about 1/8 of an ounce for shallows and up to 1/2 ounce for the depths. The lead may be pegged into place by inserting a toothpick and breaking the excess off.
The color and size of the worm is important. I usually start with a seven or eight inch worm. As it wears, I cut the worn-down piece off; when I'm finished, I may be down to a three or four inch worm. The huge bass like the eight inch worms.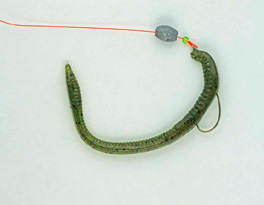 The color depends upon water clarity. For clear water, I'll pick an olive motor oil color. For stained water, I'll choose purple, black, or chartreuse. The red and orange colors are effective in bright light conditions.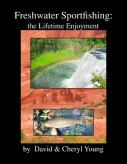 Perigree Learning, LLC.
© 2023 The Gale Group, Inc. All rights reserved.
© 2023 Perigee Learning LLC. All rights reserved.
LoveTheOutdoors.com is owned and operated by Advameg, Inc. © 2023 Advameg, Inc.