Spinners
For nearly ten years I spent most of the time I fished using Mepps spinners exclusively. I caught salmon, steelhead, and trout in Utah, Idaho, Montana, Oregon, Washington, British Columbia, and Alaska.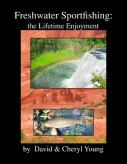 Perigree Learning, LLC.
© 2020 The Gale Group, Inc. All rights reserved.
© 2020 Perigee Learning LLC. All rights reserved.
LoveTheOutdoors.com is owned and operated by Advameg, Inc. © 2020 Advameg, Inc.