Drag
Drag
Right now is the time to discuss proper drag tension. What I want is a flawlessly smooth drag on all my reels. I set it to about 25% of the breaking strength of the line. That is two pounds of pull on an eight pound test line, one pound of pull or less on a four pound line. The drag's smooth release prevents any undue sudden stresses that may break a line or tear out the hook from the fish's mouth.
Always take the time to properly adjust the drag. The sign of a quality drag is that the rod doesn't jerk up and down as the fish takes out line.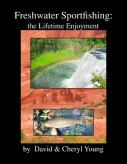 Perigree Learning, LLC.
© 2023 The Gale Group, Inc. All rights reserved.
© 2023 Perigee Learning LLC. All rights reserved.
LoveTheOutdoors.com is owned and operated by Advameg, Inc. © 2023 Advameg, Inc.