Midge Emerger
Midge Emerger
Fly Name
Hook
10-22
Thread
black & fine silver wire
Wings
white closed cell foam
Tails
none
Body
ostrich herl & hare's ear
Hackle
none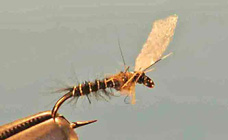 Tie in thread at forward end of body with 3 to 5 tight wraps. Wrap thread to the base of the tail. Attach wire and black ostrich herl at base of tail. Wrap thread forward.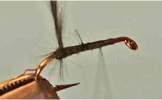 Evenly wrap herl forward and secure with 4 or 5 tight wraps.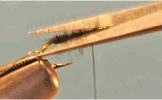 Trim herl to thin out the abdomen.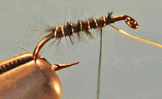 Evenly rib body with fine wire. About 7 to 10 turns is ideal. Secure wire with 4 or 5 tight thread wraps.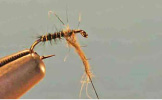 Wax thread with a light coat of wonder wax. Apply a thin amount of dubbing. Spread dubbing fibers out evenly on thread. Twist dubbing evenly on thread with thumb and forefinger.
Wrap dubbed thread evenly forward to the front end of the body. Tie off with 3 to 5 tight wraps.
Note: it is common to either over or underestimate the dubbing amount. It is easy to add more dubbing or pinch off excess dubbing.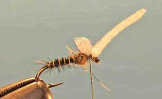 Tie in a thin strip of closed cell foam with 4 or 5 tight wraps. Trim off its base.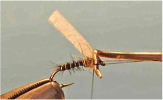 Whip finish head with 4 to 8 turns. Pull tag end firmly and cut off excess thread. Place a drop of head cement on knot and allow it to penetrate both the thread base and foam stem. Trim wing so its nearly the same length of the body.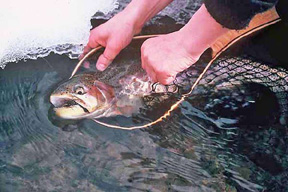 This is one of my best winter midge fly patterns. It closely mimics an emerging midge. The fly's dense body and upright foam makes it float at the surface film in an upright position. When tied in the larger sizes its also a good lake fly.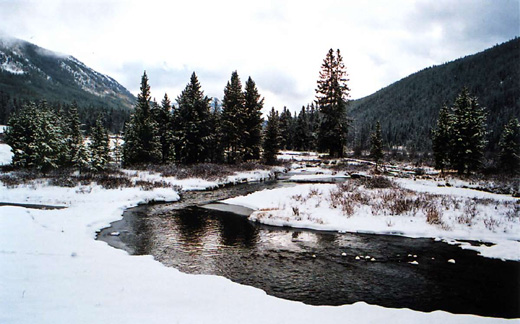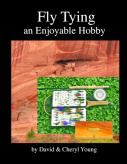 Perigree Learning, LLC.
© 2023 The Gale Group, Inc. All rights reserved.
© 2023 Perigee Learning LLC. All rights reserved.
LoveTheOutdoors.com is owned and operated by Advameg, Inc. © 2023 Advameg, Inc.