Deer Hair Popper
Deer Hair Popper
Fly Name
Hook
8-2
Thread
black
Wings
none
Tails
saddle hackle
Body
deer hair
Hackle
saddle hackle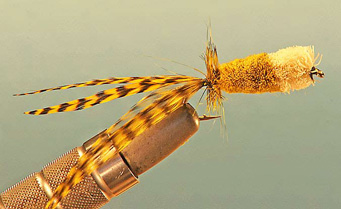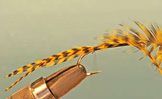 Wrap thread onto the hook shank in the rear section of the hook only. Tie in the hackles convex sides together by making two loose wraps then reposition hackles so they spread out evenly. Secure with 5 tight wraps. Cut off excess.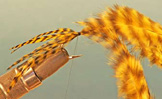 Select hackle for proper size and desired stiffness. Tie in stem with 2 loose wraps to place, followed up with 3 to 5 tight thread wraps. Concave side of hackle is opposite of body. Wind hackle evenly and secure with 5 tight wraps. Cut off excess.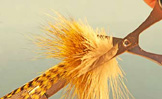 Select a bunch of deer hair twice the diameter of a kitchen match. Wrap it around the hook shank with 3 loose wraps. Tighten the thread tension and the hollow hair will flare. Secure with 5 tight wraps directly in front of hair. Push the bundle backwards to condense it.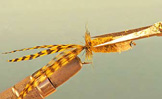 Repeat the last step until the body is completely formed. It usually requires 3 to 5 deer hair bunches. Choose the color of the hair to make a 2 toned appearance. Tie off with 5 tight wraps and whip finish. Add head cement. Finally with sharp scissors trim the hair into the desired shape. Usually a cigar shape is preferred but you can make the body look like a frog with a little talent at cutting hair.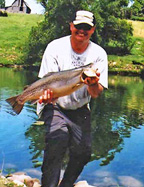 Deer Hair Popper
thread
A or 3/0
hook
2/0 to 4
body
deer hair
hackle
saddle
tail
saddle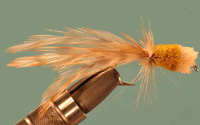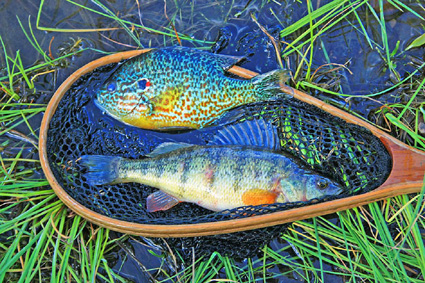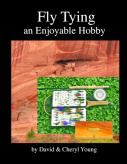 Perigree Learning, LLC.
© 2020 The Gale Group, Inc. All rights reserved.
© 2020 Perigee Learning LLC. All rights reserved.
LoveTheOutdoors.com is owned and operated by Advameg, Inc. © 2020 Advameg, Inc.