Plant Cover
Plant Cover
Lily pad covers are found in the shallows around irregular shorelines. These furnish overhead protective cover for daytime feeding fish. Annoying hangups are common and discourage most anglers, but a weed guard added to your fly can make fishing these places a joy. Cast and carefully retrieve between the pads. Fish use this overhead canopy for protection and prefer these locations. The channels and lily pad edges are good sites for parallel retrieves. Many times a subsurface offering is productive because the fish hold just under the lily pad. Fishing deep in the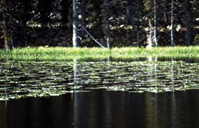 midst of the pads is difficult because of all the stems that angle in odd directions. A float tube is helpful because it maneuvers you into a multitude of different casting lanes. The best time to fish lily pad areas is during bright light conditions.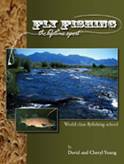 Perigree Learning, LLC.
© 2020 The Gale Group, Inc. All rights reserved.
© 2020 Perigee Learning LLC. All rights reserved.
LoveTheOutdoors.com is owned and operated by Advameg, Inc. © 2020 Advameg, Inc.