Improved Clinch Knot
Improved Clinch Knot
Provides a strong attachment of tippet to fly.
Complete the first 3 steps of the clinch knot. Then proceed as follows:

Pass the tag end through the large loop. Lubricate, draw tightly, avoid any overlapping loops, and trim the tag end.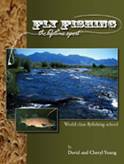 Perigree Learning, LLC.
© 2020 The Gale Group, Inc. All rights reserved.
© 2020 Perigee Learning LLC. All rights reserved.
LoveTheOutdoors.com is owned and operated by Advameg, Inc. © 2020 Advameg, Inc.