Duncan Loop
Duncan Loop
The Duncan Loop is used to join the tippet to the fly. It provides an excellent sliding loop that can be tightened anywhere on the standing part of the leader. The loop size can be easily adjusted. I like it for heavy tippets because the loop does not impair the action of the fly. A stiff leader traditionally knotted to the fly would be too stiff of a junction and impair the fly's action.
Put the leader tag through the hook eye with about 8 inches of tag end remaining. Keep tag leader parallel to the standing leader.
Turn the tag end so it comes back underneath the 2 parallel strands. Wind the tag end around these 2 parallel strands. Make 5 wraps around the parallel strands (inside the loop).
Lubricate, draw tightly by pulling both tag and standing tag end.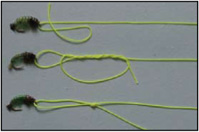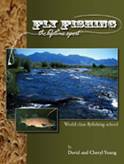 Perigree Learning, LLC.
© 2023 The Gale Group, Inc. All rights reserved.
© 2023 Perigee Learning LLC. All rights reserved.
LoveTheOutdoors.com is owned and operated by Advameg, Inc. © 2023 Advameg, Inc.