Succulent Chicken Pot Pie Recipe
Succulent Chicken Pot Pie Recipe
12-inch Dutch oven
16 briquettes on the lid
16 briquettes on the bottom
1- inch deep cast iron fry pan
Glass pie pan
Baking time: 30 minutes
2 or 3 boneless chicken breasts cut up uniformly into ½ by ¾ inch chunks
Green onions
Olive oil
Cauliflower
Baby carrots sliced
Brussels sprouts
New red potatoes sliced
Broccoli
Refrigerated pie crust
½ teaspoon sea salt
½ teaspoon McCormick Montreal chicken seasoning
1 can chicken broth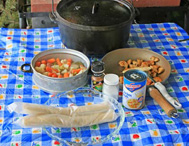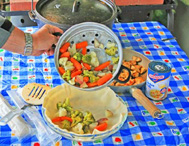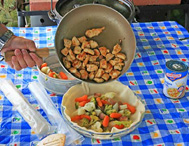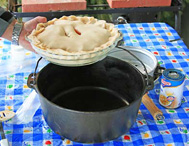 INSTRUCTIONS
In cast iron fry pan, sauté chicken chunks with green onion and olive oil. Fully cook and brown chicken.
Place bottom crust in pie pan. Layer it with chicken and all the vegetables. Season with salt and chicken seasoning. Add ½ can of chicken broth. Place top crust on and seal edges. Make about 3 slits in top crust. Bake 30 minutes until crust is golden brown.
Note: This is the best chicken pie that I've ever tasted. Healthy chicken, veggies, and some olive oil make it good for you too.