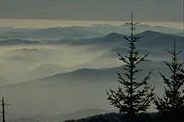 The Great Smoky Mountains National Park draws more than nine million people each year, making it the most visited national park. It is located in North Carolina and Tennessee and is a part of the Appalachian Mountain Chain, the oldest mountains in America. This 500,000+ acre park protects one of the most diverse ecosystems on the planet. Approximately 95% of the park is forested and plays host to more Great Smoky Mountain Nat'l Park as shown on the NPS website. than 4,000 species of plants, 130 types of trees, 65 mammals and 230 birds. The Smokies support some of the Southeast's largest remaining populations of wild Fraser firs.
This park is an outstanding outdoor recreation destination. The most popular spots are Cades Cove, Little River, and Newfound Gap Road. There are activities for visitors of all ages and for all interests. Some recommended activities include camping in any of their 10 campgrounds, hiking the park's more than 800 miles of trails, picnicking, sightseeing, trout fishing, scenic drives, horseback riding, nature viewing, ranger programs and photography. Waterfalls are plentiful and can be found, by hiking, along almost every stream in the Smokies. These hiking trips can range from easy to strenuous and provide half hour walks to week-long backpacking trips. Many people also choose to hike in the park during the spring because of the abundance and diversity of wildflowers. The Smokies are considered a premier wildlife viewing area. You'll see creatures from squirrels to deer to bear and everything in between so be sure to keep your eyes open.
The Great Smoky Mountains National Park is a nature lovers paradise. An unforgettable experience. A place in the mountains where wonderful memories are made.
Visit another website dedicated to providing information about the Great Smoky Mountains National Park.
Enjoy your camping and hiking adventures!