Wildlife
Wildlife
Camping puts you inside the world of wildlife. At dusk and dawn most wild animals are more easily seen. Sighting wildlife can be the highlight of a trip. Whether it is a colorful butterfly or bull bison, the sighting can be rewarding.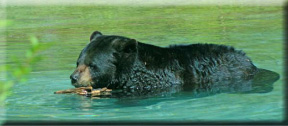 I enjoy watching the activity of small mammals: the ground squirrel standing on its tip toes for a better view, or the busy pika mowing down grass and packing it away deep inside a rock slide.
Last fall I sighted a black bear cub along the trail. He climbed a short way up a tree for security. His new height put him close to an abundance of blackberries that were growing underneath the tree. The cub nibbled on the berries as he watched me. I didn't want to come between this cub and its mother, so I backed away using the same route I came in on. This cub looked so cuddly; it was the highlight of my trip.
Encountering the large mammals is common. Deer, elk, moose, bison, coyotes, bears, antelope, mountain goats, and bighorn sheep are some of my favorites.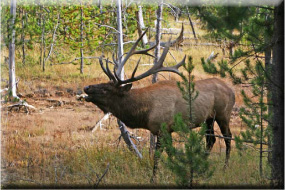 When I was younger I wanted to view the trophy sized animals. The ones with the biggest racks But now I enjoy seeing baby wildlife and the interaction with their mothers. A whitetail fawn mimics its mother's behavior. I love to see it stomp an alarm with a front foot. It stares at you and purposefully looks away, only to quickly return to stare at your position. I wonder if it is judging to see if I will try to move in closer.
A couple of summers ago I saw two fawns playing in the sprinklers of a hay field. It was a hot day and these fawns ran through the sprinklers just like my children did.
What amazes me the most in my mother/toddler sightings is how good of a parent a wild animal can be. There are no parenting classes to be had, but by instinct the wildlife mother properly cares for its young. Now if only we humans could take the example from the wildlife.
A quiet, early morning hike along the edge of a forest and a meadow is one of my favorite times to observe the animals. The deer-like animals have spent the night out in the meadow feeding, and now they're migrating to their bedding sites deep inside the forest. In the dusk the reverse migration occurs.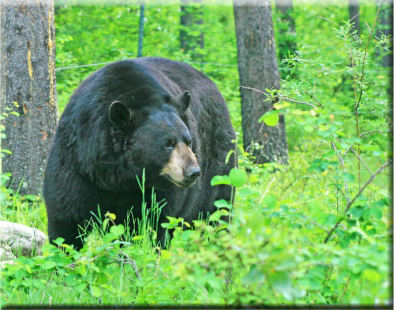 I also like to watch a water hole. At about four or five o'clock in the afternoon, the animals quench their thirst after their nap. This is a great place to catch a glimpse of or to photograph a trophy-sized mammal.
One summer my wife and I were driving a dirt road, enjoying viewing the fresh crop of snowshoe rabbits. They would leap for cover on our approach. Their big feet looked way out of proportion to their body size. As we rounded a curve, a Canadian Lynx alongside the road was staring at us. It was unafraid of our presence. This was in Utah and such animals were thought to be extinct in this area. This was a once-in-a-lifetime sighting.
Camping puts you inside the heart of wildlife habitat. It's the best way to observe the natural animals. This is a prime reason to camp.