Truck Camping
Truck Camping
I have a GMC four-wheel drive pickup truck with an off-road package and carpet kit for the shell that I like to use for truck camping. With it I can four-wheel drive into some very remote camp sites. Once I get to my location all I have to do is simply level the truck.
In the back of my pickup I have what's called a carpet kit. It's made for the pickup truck bed. It has four huge compartments that are hidden. In these compartments I can store and organize my equipment. Also there is a huge storage area underneath the sleeping area that is 6 ½ ' deep and nearly three feet wide. This is additional storage that is completely hidden. The top of the carpet kit has two inches of foam over its wood base with additional plush carpet layers on top. This provides an excellent sleeping surface that is both soft and roomy enough for two. All you have to do is roll out your favorite sleeping bag. To make an even better sleeping area you can add an additional foam pad. The shell is not only insulated but it is also watertight. This provides warm sleeping even in the winter months. This is perhaps my favorite way to enjoy a winter camp. I also like to bring some accessories. A throw rug is handy to take your shoes off and to put on and off your wading boots. The rug stores on the tail gate so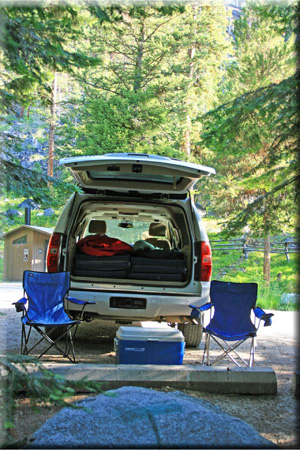 when the tail gate is down it's readily accessible to place on the ground. This helps keep the interior of the carpet kit clean. You don't track in dirt from the outside.
I also bring a small cooler, some ice, and some foods and beverages. I also like to include a folding chair; the nylon type with arms is more comfortable. The camper shell has two large, sliding, screened windows. This keeps out the mosquitoes and insects and provides cooling ventilation during the hot summer months. You can opt to sleep with the tailgate down and the clam shell up or you can close both of them when the weather's bad. I can stay completely dry even during a heavy rain or snow storm.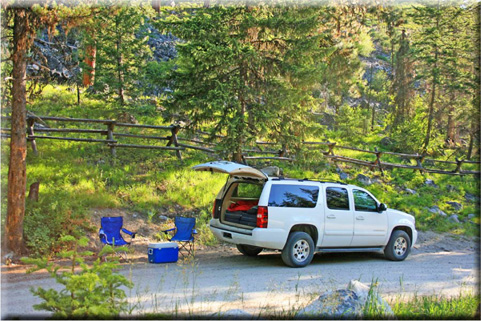 The convenience of truck shell camping is that your equipment is readily available and safely stored in an organized manner. The camp set up can be done in only a few minutes. It's my preference for cold and wet weather camping trips. I also like it when I'm covering a lot of miles and I don't want to spend much time setting up camp. It's ideal for the spur of the moment unplanned trips.
You can store the necessary camping items here to be ready in a moment's notice. I enjoy using it when afield when I need to be highly mobile, such as when I'm filming wildlife and I'm not exactly sure where that herd of elk will be. The camp shell camp is the fastest setup camp known. Here I'm set up on an elk filming venture. I had to drive for several hours with the windows down listening for bugling elk. Once they were found, I could quickly and quietly set up camp and be ready at first light to view the animals. I have no need to make a campfire, so this is an advantage of camp shell camping.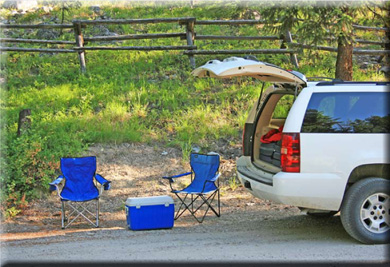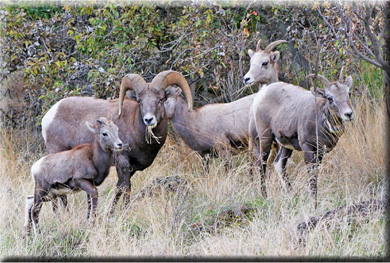 My mobility allowed me to film the following wildlife. I found these animals only a short hike from my campsite. My presence had gone unnoticed.
I also like it for camping in grizzly bear and rattlesnake country. The truck and shell provide me protection from these animals. If I were sleeping in a tent, I would be awakened by every little noise, wondering if I were going to be bitten or eaten.